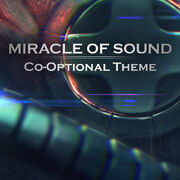 Co-Optional
is the eighteenth track from Miracle of Sound's album,
Level 4
. It was written, produced, mixed and mastered by Gavin Dunne (Miracle Of Sound). Lyrics written by Gavin Dunne. Vocals arranged and performed by Miracle Of Sound. Music by Miracle Of Sound. This song was released on October 15, 2013.
Lyrics
Meaning
Theme song for the Polaris Co-Optional Podcast, hosted by Totalbiscuit.[1]
Official Video
References