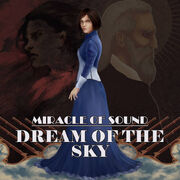 Dream of the Sky
is the fourth track from Miracle of Sound's third album,
Level 3
. It was written, produced, mixed and mastered by
Gavin Dunne
(Miracle Of Sound). Lyrics written by Gavin Dunne Vocals arranged and performed by Miracle Of Sound. Music by Miracle Of Sound except Lead female vocal performed by
Lorna Dollery
Violins by
Gwen Boyle
, and Choir vocals by Gwen Boyle, Lorna Dollery, and Gavin Dunne. This song was released on April 18, 2013.
Lyrics
Oh come on away to the city
A kingdom to behold
Where the bluest skies they float on by
The streets all paved in gold
Where under the smiles fair and pretty
Are teeth so very white
Into the bones of our burdened necks they bite

Baptized in the water
You're draining the well
You built up your heaven
On the back of hell
Divine is the daughter
The dream that you sell
You built up your heaven
On the back of hell

Breakin' our backs
On breakin' down stones
Raisin' up buildings
Breakin' down bones
Work all the night
And we work all the day
Don't get a choice man
Don't get a say

Well there's a storm-cloud stirrin' now
Revolt!
There's a storm-cloud stirrin' now
Revolt!

The filthy streets and the calloused feet
And bloodshot Irish eyes
A floating haven for the craven
Nestled in the skies
Well up and out and away with ya
There's a fight outside your doors
The shining pride of America
Is a nation up for war

Revolt!

Baptized in the water
You're draining the well
You built up your heaven
On the back of hell
Divine is the daughter
The dream that you sell
You built up your heaven
On the back of hell

The hybrid face of time and space
And all that's in between
Dimensions twist and turn amidst
The the whims of one foreseen...

Songbird take me home

I am lonely wherever I go
Sanctuary is all that know

And I dream of the sky
Broken clouds drifting by
And I dream of the sky
My Utopian lie

Take to the skies
With my only friend
Every angel
Begins at the end

Meaning
Inspired by Bioshock Infinite
Official Video
References