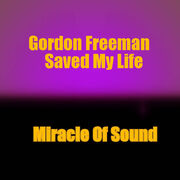 Gordon Freeman Saved My Life
is the nineteenth track from Miracle of Sound's first album,
Level 1
. It was written, produced, mixed and mastered by
Gavin Dunne
(Miracle Of Sound). Lyrics written by Gavin Dunne Vocals arranged and performed by Miracle Of Sound. Music by Miracle Of Sound. This song was released on February 16, 2011.
Lyrics
Out in the streets of City 17
Civil Protection run a rigid machine
Break down my door, take me down to the station
They got ideas that I got information

My natural charm is only getting me so far
When out of the black I see the shape of a crowbar...

Gordon Freeman saved my life!
Fight for freedom with a brainstorm
Gordon Freeman saved my life!
Like Chuck Norris in a geek form

Completely silent, a violent creature
Despite looking like a geography teacher
Moved at the speed of a cheetah in its prime
Apparently he ain't running on Valve Time

I watch as the Combine are turnin' to flee yeah!
They vanish into thin air like Episode 3 yeah!

Gordon Freeman saved my life!
Fight for freedom with a brainstorm
Gordon Freeman saved my life!
Like Chuck Norris in a geek form

Gordon Freeman saved my life!
(You'll never get back what you lost)
Fight for freedom with a brainstorm
(You'll never get back what you lost)
Gordon Freeman saved my life!
(You left Black Mesa far too long)
Like Chuck Norris in a geek form
(You'll never find where you belong)

Fight for freedom with a brainstorm
Like Chuck Norris in a geek form

Meaning
Inspired by Half-Life 2
Official Video
References