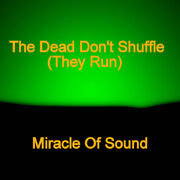 The Dead Don't Shuffle (They Run)
is the thirteenth track from Miracle of Sound's first album,
Level 1
. It was written, produced, mixed and mastered by
Gavin Dunne
(Miracle Of Sound). Lyrics written by Gavin Dunne Vocals arranged and performed by Miracle Of Sound. Music by Miracle Of Sound. This song was released on September 21, 2011.
Lyrics
Go!

We got a hell of problem
We got a hell of a mess
Caught in the glare of the cold dead stare
Do ya think that you can handle the stress?
Green flu in my nostrils
Don't move away from the pack
Immunity to the sickness is not
Immunity to attack

Panic stricken, petrified
We take the horde on side by side

Cause the dead don't shuffle
They run
Dash through streets of slaughter clutching my gun
Cause the dead don't shuffle
They run
We hesitate for just one flash and we're done

We got a hell of a blessing
It's turned into a curse
We're scared stiff and they're everywhere
I dunno if this could get any worse
I'm overwhelmed and I'm anxious
Panic pounds in my head
I didn't fight for my life just to spend it
Running away from the dead

Panic stricken, petrified
We take the horde on side by side

Cause the dead don't shuffle
They run
Dash through streets of slaughter clutching my gun
Cause the dead don't shuffle
They run
We hesitate for just one flash and we're done

Runnin' for your lives
Blood rush to the head
Don't leave me here alone now
Don't leave me for dead
AAAAAAAAAAARGGHHGH

Cause the dead don't shuffle
They run
Dash through streets of slaughter clutching my gun
Cause the dead don't shuffle
They run
We hesitate for just one flash and we're done

Let it go

Meaning
Inspired by Left 4 Dead
Official Video
References